With a remote location and need to minimize site logistics, the client wanted a complete turnkey solution from video production to presentation with a small team. We were able to accomplish all of the shoot objectives in a short timeframe, and provide the VR presentation support needed.
For the production portion, it was divided into two sections: aerial and ground level. For the aerial production we flew the drone to different locations around the site, shooting both video and 360 photos for maximum efficiency. For the ground level production, we selected four locations with the best views and angles to highlight specific site features. We also added a timelapse to better showcase the moving of the well pipe. And to help the viewer further identify important sections of the video, we added graphics and video call outs. During the in-person VR presentation the video was narrated by a presenter, with a live Q&A after the presentation.
If the video quality above is poor, click the gear in the bottom corner to change the quality from Auto to 4K. Click pause then play.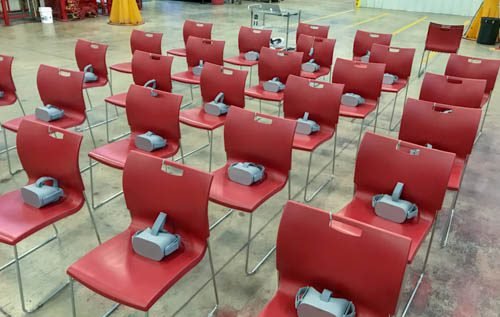 The finished presentation allowed the viewer the feeling of being at a frac site without actually being there. To achieve this, Oculus GO headsets were used. There were a total of 28 headsets controlled by a single laptop for a synchronized viewing experience.
Hardware:
Oculus GO (28 headsets)
Apple MacBook Pro
Software: